Need some summer decor ideas to freshen up your home? It's easy to do, and doesn't need to cost much—or sometimes anything at all. It's all about shedding layers and brightening your look.
For starters, Carole Marcotte, an interior designer with Form & Function in Raleigh, NC, likes to keep her windows open and give them a good scrub when the weather turns hot and sunny.
"And I toss or donate anything that's clogging up sight lines or on shelves, including old papers, magazines, and books I've read," she adds.
From there, small changes can make a big difference. Try some of these cheap and easy summer decor ideas to get started.
Show off bare floors
Photo by Gabriel Holland Interior Design
Thick, wool rugs are fine most of the year, but now's the time to roll them up and let floors breathe.
"You should send carpets to the cleaners anyway, so pack them away and put out lighter-weave area rugs or a runner," recommends Marcotte. Kilim, cotton, grass cloth (a combination of sea grass and cotton), or a fun, geometric rug are good swaps that feel more appropriate and summery underfoot.
Stash winter cookware
Are you making beef stew this week? Probably not. The same likely goes for pots of roasted veggies and steaming cups of tea. Summer cooking usually means big, green salads and simple fare from the grill—and neither are made with a Dutch oven. Store this chunky pot, as well as roasting supplies and the teakettle, and take out a big pitcher for mixing Arnold Palmers and skewers for kebabs.
Edit your throw pillows
Photo by Mandeville Canyon Designs
Give your couch and club chairs a critical eye toward lighter, brighter designs. Updated throw pillows are an easy and inexpensive way to bring on summer, especially the ones from Target and Walmart, says Jeanine Boiko of Okio B Designs. Put away pillows with jewel tones, tweed fabric, and anything plush in favor of pastels, flowered prints, and coral patterns.
Ditch tablecloths for place mats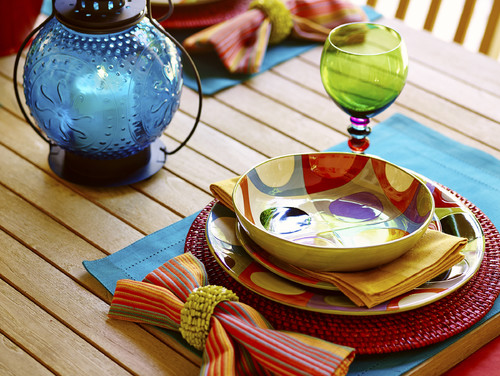 Photo by Amy Vangsgard Gallery
A long tablecloth draped over your legs is a hot way to eat. Fix this sticky situation by storing these linens until fall and using place mats. Make it even easier and pair this casual choice with paper napkins (less laundry).
"Look for gingham patterns at big-box home stores, especially for a breakfast nook or picnic table in the yard," says Boiko.
Load up on plants
Photo by Kristen Rivoli Interior Design
Many homeowners can't wait to move their big plants and flowers to a deck or patio for the summer season, but it's a nice idea to keep some green inside, too, notes Marcotte. Try a row of small herb pots (rosemary, thyme, mint), which smell delicious and look fresh on a kitchen windowsill.
Think white, bright, and sheer
Photo by Koch Architects, Inc. Joanne Koch
"If you can, replace heavy, dark curtains with breezy, sheer panels," suggests Boiko. Or if you want to try waking up with the sun, remove your curtains and live with bare windows for the summer. Pack away winter bedding and put out summer-weight comforters, and make similar swaps in the bathroom, says Karen Gray-Plaisted of Design Solutions KGP.
"A white shower curtain and towels are a quick summer upgrade," she adds.
Inexpensive white slipcovers are another summer decor idea (check out the picks from Wayfair).
"Using slipcovers on furniture started in the Victorian era, because lighter colors not only appear cooler, they actually are—heat from the sun is reflected by white shades," explains Bohnne Jones, an interior designer and president of Decorating Den Interiors in Nashville, TN.
Add starfish and shells
Boiko is a fan of free printables (think ocean scenes) for warmer weather and pops them into plain white frames. She also stocks up on seashells and starfish from dollar stores.
"Arrange various sizes of starfish in bathroom and kitchen windows, and fill vases with shells for a sideboard or tables on your porch," she suggests.
Purchase some milk bottles
Stemware and china are wintry and usually formal. Instead, channel a sunny Paris vibe with chunky tumblers for wine and melamine dishes. Or hit the dollar store for vintage-style milk bottles (Boiko likes to serve lemonade in hers). Add a bowl of lemons to your table for a pop of color and to slice for iced tea and cocktails and to squeeze on seafood. You can also use Mason jars on the table (the blue glass ones are prettiest) and fill them with daisies and black-eyed Susans.
Source: https://www.realtor.com/advice/home-improvement/summer-decor-ideas-cheap/